P.S. It's Time for Numbers!
Welcome to the Numerology services! Thank you for your interest.

Hi! I'm Pam. I am a Project Specialist, Certified Numerologist, and a crafty gal at heart. Did you know that certain activities are more or less likely to succeed, depending on the numerology of the day on which you do them? Let's say you're trying to decide whether or not to go to launch a course on a particular day. Knowing the numerology of the launch date can give clues about whether it will benefit you or not so you can plan accordingly.
Wouldn't it be nice if you could plan a bit easier and consistently set yourself up for success? I invite you to discover your Blueprint using Numerology to help you navigate your life and business and with more ease.

Don't know your Ruling Number? Click below and get a guide to discovering yours and unique traits that make you YOU!
Time to Discover More About You Through Numerology
While the other numbers and influences in your birth chart help to further identify your personality, alignment with your Ruling Number will help you to flow more easily.

Knowing the Ruling Number of my clients helps me to provide the support you need and help develop organizing tools just for you.

Get your personal Numerology Mini Blueprint and uncover how your Ruling Number can guide you along life's path. You'll also learn your creativity style and crafts and hobbies that match your creative style.

Get a snapshot of what makes YOU unique.


One-Page written report that focuses on your Ruling Number.
Discover your unique traits and special gifts. Start thinking about yourself in a whole new way.
Learn more about your creativity style with the crafts and hobbies that will inspire you.
View challenges and obstacles you will likely face during certain time periods in your life.
Receive thought provoking questions and prompts to reflect upon.
Reveal your business organizing style. Gain more clarity to refine your business goals.
What is Your Ruling Number?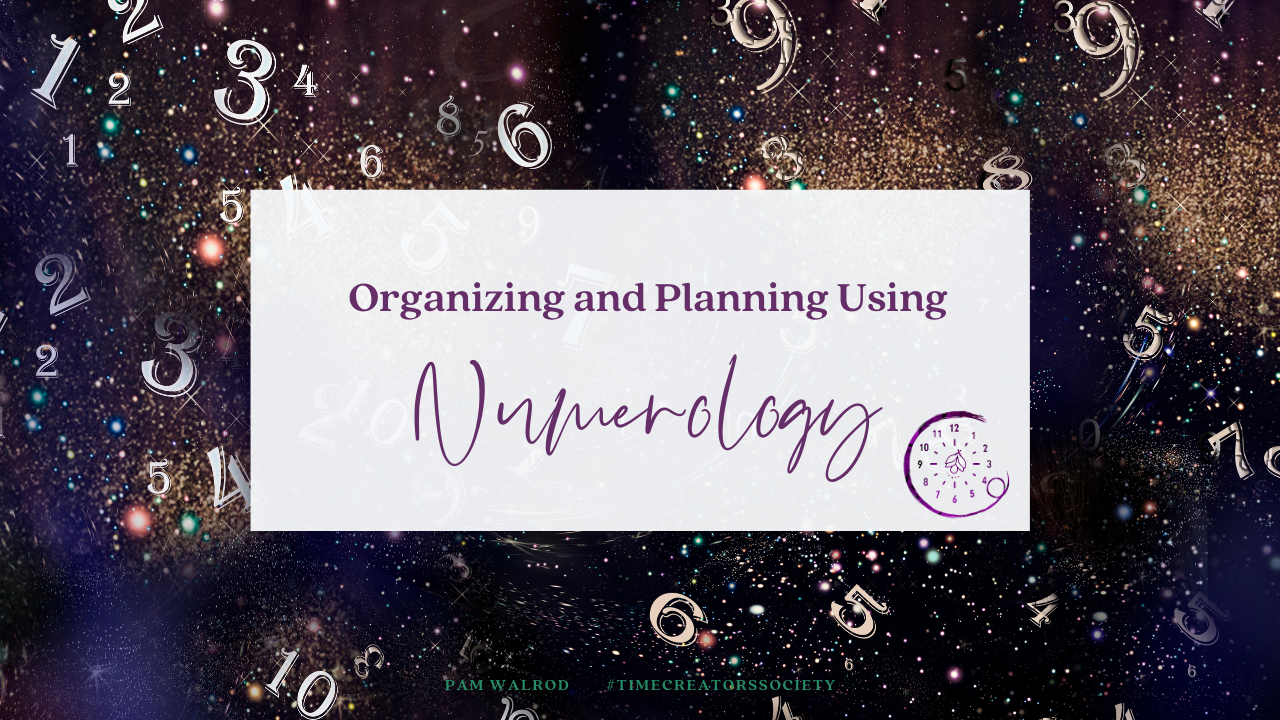 Pam is an absolute organizational genius! Transitioning to working full time at home, and carving out space and creating a home office to work in full time had proved to be challenging. I was used to working my business in the evenings and weekends and so I had made "whatever" work for years. Now that it was time to really make my dreams work, I realized I wasn't equipped with a work space that was matched to my business. Pam took me from feeling overwhelmed to feeling empowered with a plan. She helped me release any judgement I had about the situation. She empowered me with easy plans that were cost effective. She thought of solutions that I hadn't thought of. She thought of questions I hadn't thought to ask of myself. I am so much better off since talking to Pam! I highly recommend her. Everyone I know has worked with her previously RAVES and now, I am added to the list of clients who can't say enough good things about her services!
Author, Online Course Creator and Community Builder
From the first time I had the pleasure of working with Pam I knew that I got lucky! She is smart, responsive, and a problem solver, which is exactly what I need as an entrepreneur in these ever-changing times. Pam goes the extra mile, but what I am truly most grateful for is that I get to focus on the work I love to do and on sharing my gifts and talents, because she's got my business covered. I cannot sing Pam's praises enough. Really, she's amazing and my business is better because of her.
Online Marketing Strategist
The one thing you'll want to do in your business is set up your systems and processes. Pam clearly understands the process and can help you get it done so you can be more efficient with your time! I'm super happy and grateful that I found Pam! If you're looking for someone that is an expert at getting your business workflow automated, I highly recommend Time Creators Society with Pam. Thank you so much Pam!!
Experience More Time Creators Services & Programs
Group Craft Workshops & Classes
Crafts and hobbies are relaxing for the soul. I love teaching others how to get creative and inspired to make projects. Everyone has the creativity code inside them!

Participate in a group environment (so much learning and sharing happens in this format).


Done-For-You Services
I specialize in course launch platforms (Kajabi), automation and streamlining of processes and more. Plus, you gain the benefit of 30 years of corporate background and experience.


Numerology Creativity & Business Blueprints
Do you want to see how your business name aligns? Are you launching a program and want to see what the day(s) bring energetically? Do you want to connect with your team more effectively? Mini and detailed blueprints offered.
Unique Craft Products

Crafting is my passion. I love creating and seeing new ideas come to fruition. I am launching a product collection that will include candles, wax melts, and bath products that are infused with intention using Numerology. As a Certified Numerologist, I carefully choose and customize products based on the correspondences of your Ruling Number. I use essential oils, herbs, crystals, and of course, charged full moon water to make my products.


Pam S. Walrod
Project Specialist and Business Organizing Strategist
About me
As a corporate director of marketing and project management for over 30 years, I've been there. There are so many things and projects to juggle when running your own business. So many deadlines and tasks to complete. You come to realize that you cannot or don't want to do every task yourself. It may be time to set up automation and systems or outsource to a Project Specialist.
Created with